It's encouraging that the White House is taking the Native American issues seriously. The White House also has similar initiatives for every major race and ethnicity EXCEPT multiracial. In fact, the multiracial population is larger than some of the other groups, yet we remain invisible in Washington.
Interior Sec'y Sally Jewell on Monday (July 29) convened the inaugural meeting of the White House Council on Native American Affairs.
The event launches a White House policy initiative aimed at getting federal agencies to work more collaboratively with federally recognized tribes in order to advance their vital economic and social priorities, as spelled out in President Obama's Executive Order of June 26.
The Council, which will meet at least three times a year, will focus its efforts on five priorities that mirror issues tribal leaders have raised during previous White House Tribal Nations Conferences. These include:
Promoting sustainable economic development;

Supporting greater access to and control over healthcare;

Improving the effectiveness and efficiency of tribal justice systems;

Expanding and improving educational opportunities for Native American youth; and

Protecting and supporting the sustainable management of Native lands, environments, and natural resources.
The Executive Order that established the Council also institutionalized the White House Tribal Nation Conference as an annual event, which has been held each year since President Obama took office. The conferences bring together leaders from all federally recognized tribes with Cabinet members and senior White House officials.  The president hosted the conference four times since 2009.
Info: Access the June 26 Executive Order at http://tinyurl.com/pofsnvu
Source: Reprinted from Native American Report.
Obama On George Zimmerman Verdict: 'Honor Trayvon Martin' By Stemming Gun Violence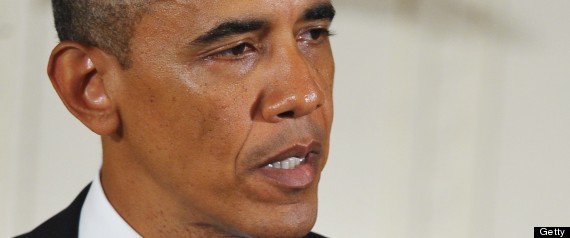 President Barack Obama released a statement Sunday on the acquittal of George Zimmerman in the death of Trayvon Martin, urging Americans to honor the slain teenager by acting to curb gun violence.
Read Obama's full statement:
"The death of Trayvon Martin was a tragedy. Not just for his family, or for any one community, but for America. I know this case has elicited strong passions. And in the wake of the verdict, I know those passions may be running even higher. But we are a nation of laws, and a jury has spoken. I now ask every American to respect the call for calm reflection from two parents who lost their young son. And as we do, we should ask ourselves if we're doing all we can to widen the circle of compassion and understanding in our own communities. We should ask ourselves if we're doing all we can to stem the tide of gun violence that claims too many lives across this country on a daily basis. We should ask ourselves, as individuals and as a society, how we can prevent future tragedies like this. As citizens, that's a job for all of us. That's the way to honor Trayvon Martin."
On Saturday, a jury found Zimmerman not guilty in the shooting death of Martin, an unarmed 17-year-old, in Sanford, Fla. Zimmerman had pleaded not guilty to second-degree murder charges, claiming he shot Martin in self-defense.
UPDATE:  The Justice Department also released a statement Sunday on the Zimmerman verdict:
As the Department first acknowledged last year, we have an open investigation into the death of Trayvon Martin. The Department of Justice's Criminal Section of the Civil Rights Division, the United States Attorney's Office for the Middle District of Florida, and the Federal Bureau of Investigation continue to evaluate the evidence generated during the federal investigation, as well as the evidence and testimony from the state trial. Experienced federal prosecutors will determine whether the evidence reveals a prosecutable violation of any of the limited federal criminal civil rights statutes within our jurisdiction, and whether federal prosecution is appropriate in accordance with the Department's policy governing successive federal prosecution following a state trial.
 Source: HuffPost. Photo credit:  MANDEL NGAN/AFP/Getty Images)
Obama Disappointment over Appointment
Project RACE does not usually get involved with articles about race-based entitlements, but an article caught my eye and begged for a little commentary. The Congressional Black Caucus (CBC) is admonishing President Obama because he hasn't chosen any blacks to fill cabinet and other high-level positions during this, his second term. In a very blunt letter, Chairwoman of the CBC Rep. Marcia Fudge (D-Ohio) not only complains about the slight, but adds, "[The CBC] ire is compounded by the overwhelming support you've received from the African-American community."
So what are they going to do? Pressure the White House, get even more publicity, scream and shout and hopefully get an African-American put in one of those top positions. I could go into the logic of just getting the right person, regardless of race, into the right job, but we all know that argument or the implication of some pay-back by the President.  
Surprise! My point is to applaud the CBC for coming together and pointing out their gripes. The letter also states, "We want to make sure that everybody understands that we're not some group that's so way out that we can't fit in the mainstream. We are very mainstream, and I want that message to be told." You go, Congresswoman.
The CBC is doing exactly what the multiracial community should be doing, but is not. Oh wait, I sent a requested letter to the Census National Advisory Committee (NAC) a week ago and stated this: "Members of the multiracial community are stakeholders, not outliers in the Decennial Census and in other government reports. We are more than bits of data or combination folks." I waited until their March meeting was over to speak with them, so they could confirm that none of the vital concerns of our community were brought up during the meeting, especially not by multiracial members of the committee. Then I immediately followed-up with the letter.
The biggest failing of the multiracial community is that many do not understand how things work in Washington, or even on state levels. Ya gotta have clout and/or think outside of the box(es). We accomplished everything we could in the 90s because of strategic political thinking by some of the Project RACE advisors. But where did all the other advocates go? How did academics without political science knowledge become voices for the movement? The same way clueless people got on committees, they were appointed by people on the inside who knew they were powerless or they were self-anointed to play "expert."
I am proud to say that Project RACE has worked for the civil rights of multiracial people and our families since 1990, mostly behind the scenes, politically, to build an important base. But we can't teach others in the community who do not understand the different needs between—let's say a zombie—and a multiracial child.
So don't worry, Project RACE has the collective backs of the multiracial community despite one old academic and his followers' efforts to keep us down. Maybe one day, we can join forces and become as effective as the Congressional Black Caucus.  
My election prediction is that if President Obama wins, writers and media will call him America's first black two-term President. If he loses, he will be America's first multiracial one-term President. What do YOU think?
Racial Views: Poll Shows Majority Harbor Prejudice Against Blacks
WASHINGTON — Racial attitudes have not improved in the four years since the United States elected its first black president, an Associated Press poll finds, as a slight majority of Americans now express prejudice toward blacks whether they recognize those feelings or not.
Those views could cost President Barack Obama votes as he tries for re-election, the survey found, though the effects are mitigated by some people's more favorable views of blacks.
Racial prejudice has increased slightly since 2008 whether those feelings were measured using questions that explicitly asked respondents about racist attitudes, or through an experimental test that measured implicit views toward race without asking questions about that topic directly.
In all, 51 percent of Americans now express explicit anti-black attitudes, compared with 48 percent in a similar 2008 survey. When measured by an implicit racial attitudes test, the number of Americans with anti-black sentiments jumped to 56 percent, up from 49 percent during the last presidential election. In both tests, the share of Americans expressing pro-black attitudes fell.
"As much as we'd hope the impact of race would decline over time … it appears the impact of anti-black sentiment on voting is about the same as it was four years ago," said Jon Krosnick, a Stanford University professor who worked with AP to develop the survey.
Most Americans expressed anti-Hispanic sentiments, too. In an AP survey done in 2011, 52 percent of non-Hispanic whites expressed anti-Hispanic attitudes. That figure rose to 57 percent in the implicit test. The survey on Hispanics had no past data for comparison.The AP surveys were conducted with researchers from Stanford University, the University of Michigan and NORC at the University of Chicago.
Experts on race said they were not surprised by the findings. "We have this false idea that there is uniformity in progress and that things change in one big step. That is not the way history has worked," said Jelani Cobb, professor of history and director of the Institute for African-American Studies at the University of Connecticut. "When we've seen progress, we've also seen backlash."
Obama has tread cautiously on the subject of race, but many African-Americans have talked openly about perceived antagonism toward them since Obama took office. As evidence, they point to events involving police brutality or cite bumper stickers, cartoons and protest posters that mock the president as a lion or a monkey, or lynch him in effigy.
"Part of it is growing polarization within American society," said Fredrick Harris, director of the Institute for Research in African-American Studies at Columbia University. "The last Democrat in the White House said we had to have a national discussion about race. There's been total silence around issues of race with this president. But, as you see, whether there is silence, or an elevation of the discussion of race, you still have polarization. It will take more generations, I suspect, before we eliminate these deep feelings."
Overall, the survey found that by virtue of racial prejudice, Obama could lose 5 percentage points off his share of the popular vote in his Nov. 6 contest against Republican challenger Mitt Romney. But Obama also stands to benefit from a 3 percentage point gain due to pro-black sentiment, researchers said. Overall, that means an estimated net loss of 2 percentage points due to anti-black attitudes.
The poll finds that racial prejudice is not limited to one group of partisans. Although Republicans were more likely than Democrats to express racial prejudice in the questions measuring explicit racism (79 percent among Republicans compared with 32 percent among Democrats), the implicit test found little difference between the two parties. That test showed a majority of both Democrats and Republicans held anti-black feelings (55 percent of Democrats and 64 percent of Republicans), as did about half of political independents (49 percent).
Obama faced a similar situation in 2008, the survey then found.
The AP developed the surveys to measure sensitive racial views in several ways and repeated those studies several times between 2008 and 2012.
The explicit racism measures asked respondents whether they agreed or disagreed with a series of statements about black and Hispanic people. In addition, the surveys asked how well respondents thought certain words, such as "friendly," "hardworking," "violent" and "lazy," described blacks, whites and Hispanics.
The same respondents were also administered a survey designed to measure implicit racism, in which a photo of a black, Hispanic or white male flashed on the screen before a neutral image of a Chinese character. The respondents were then asked to rate their feelings toward the Chinese character. Previous research has shown that people transfer their feelings about the photo onto the character, allowing researchers to measure racist feelings even if a respondent does not acknowledge them.
Results from those questions were analyzed with poll takers' ages, partisan beliefs, views on Obama and Romney and other factors, which allowed researchers to predict the likelihood that people would vote for either Obama or Romney. Those models were then used to estimate the net impact of each factor on the candidates' support.
All the surveys were conducted online. Other research has shown that poll takers are more likely to share unpopular attitudes when they are filling out a survey using a computer rather than speaking with an interviewer. Respondents were randomly selected from a nationally representative panel maintained by GfK Custom Research.
Overall results from each survey have a margin of sampling error of approximately plus or minus 4 percentage points. The most recent poll, measuring anti-black views, was conducted Aug. 30 to Sept. 11.
Andra Gillespie, an Emory University political scientist who studies race-neutrality among black politicians, contrasted the situation to that faced by the first black mayors elected in major U.S. cities, the closest parallel to Obama's first-black situation. Those mayors, she said, typically won about 20 percent of the white vote in their first races, but when seeking reelection they enjoyed greater white support presumably because "the whites who stayed in the cities … became more comfortable with a black executive.""President Obama's election clearly didn't change those who appear to be sort of hard-wired folks with racial resentment," she said.
Negative racial attitudes can manifest in policy, noted Alan Jenkins, an assistant solicitor general during the Clinton administration and now executive director of the Opportunity Agenda think tank.
"That has very real circumstances in the way people are treated by police, the way kids are treated by teachers, the way home seekers are treated by landlords and real estate agents," Jenkins said.
Hakeem Jeffries, a New York state assemblyman and candidate for a congressional seat being vacated by a fellow black Democrat, called it troubling that more progress on racial attitudes had not been made. Jeffries has fought a New York City police program of "stop and frisk" that has affected mostly blacks and Latinos but which supporters contend is not racially focused.
"I do remain cautiously optimistic that the future of America bends toward the side of increased racial tolerance," Jeffries said. "We've come a long way, but clearly these results demonstrate there's a long way to go."
Source:
By SONYA ROSS and JENNIFER AGIESTA
AP News Survey Specialist Dennis Junius contributed to this report.
Biracial identity: trying to fit in
You're Hispanic, right?
No? Well, are you Middle Eastern?
No? Then what are you?
Oh, that's so interesting!
The above is just a sample of the prodding questions that sometimes come with biracial or multiracial identity.
Biracial identity has been catapulted to the forefront of American culture with the political rise of Barack Obama to president of the United States.
The president was born to a Kenyan father and an American mother and considers himself African-American. He has acknowledged the difficulties of growing up biracial. He was often teased and, to make matters worse, he had a distanced relationship with his father.
The issues that existed for the president pertaining to racial identity and social acceptance exist for many Americans.
There are more than 7 million people in the United States who identify as two or more races, with more than 180,000 of those are right here in North Carolina, and those numbers are on the rise. There are about 850 students at UNC who identify as more than one race.
It is important to be aware and sensitive to not only general racial difference, but also to the distinctions that exist for students of multiracial backgrounds. There are many situations that can present real challenges for biracial or multiracial college students.
As every prospective UNC student fills out his or her college application, he or she will also have to identify themselves racially. This information is used to record the demographic characteristics of students at UNC.
This can present a real quandary for biracial students. How does one make such a choice? To choose one race and not the other is to deny one half of your racial ancestry and essentially one of your parents.
There might be historical implications, especially for those who identify as half-black. A remnant of the Jim Crow South was the "one drop" rule, which stated that if one had a drop of black blood he or she was considered black.
Choosing "two or more races" or "other" doesn't suffice as a racial identifier either. Students should be allowed to pick something more than the current generic option of the "two or more races" identifier. After all, students should have the option to be proudly Latina and African-American at the same time, or to boast both Asian and white ancestry simultaneously. In different forms, biracial or multiracial individuals are often confronted with the age-old question, "What are you?"
This might not seem like a big deal to people who visually appear to be a member of only one race. But for those whose appearance is racially ambiguous, this question can be offensive or even troubling. Multiracial individuals can feel isolated by their mixed ancestry or feel as if they do not belong to either group.
Biracial identity is a fascinating subject, but we must remember to remain sensitive to the various nuances that exist for people who identify as two or more races.
Source: By Averi Harper | The Daily Tar Heel (North Carolina) 


Our Black (not multiracial) President – Says NY Times
For President, a Complex Calculus of Race and Politics
When President Obama greets African-Americans who broke barriers, he almost invariably uses the same line."I wouldn't be here if it weren't for you," he said to Ruby Bridges Hall, who was the first black child to integrate an elementary school in the South. The president repeated the message to a group of Tuskegee airmen, the first black aviators in the United States military; the Memphis sanitation workers the Rev. Dr. Martin Luther King Jr. addressed in his final speech; and others who came to pay tribute to Mr. Obama and found him saluting them instead. 
The line is gracious, but brief and guarded. Mr. Obama rarely dwells on race with his visitors or nearly anyone else. In interviews with dozens of black advisers, friends, donors and allies, few said they had ever heard Mr. Obama muse on the experience of being the first black president of the United States, a role in which every day he renders what was once extraordinary almost ordinary. 
But his seeming ease belies the anxiety and emotion that advisers say he brings to his historic position: pride in what he has accomplished, determination to acquit himself well and intense frustration. Mr. Obama is balancing two deeply held impulses: a belief in universal politics not based on race and an embrace of black life and its challenges. 
Vigilant about not creating racial flash points, the president is private and wary on the subject, and his aides carefully orchestrate White House appearances by black luminaries and displays of black culture. Those close to Mr. Obama say he grows irritated at being misunderstood — not just by opponents who insinuate that he caters to African-Americans, but also by black lawmakers and intellectuals who fault him for not making his presidency an all-out assault on racial disparity. 
"Tragically, it seems the president feels boxed in by his blackness," the radio and television host Tavis Smiley wrote in an e-mail. "It has, at times, been painful to watch this particular president's calibrated, cautious and sometimes callous treatment of his most loyal constituency," he continued, adding that "African-Americans will have lost ground in the Obama era." 
Such criticism leaves the president feeling resentful and betrayed, aides said, by those he believes should be his allies. The accusations are "an assault on his being," said David Axelrod, his chief strategist — not to mention a discomfiting twist in a re-election fight in which the turnout of black voters, who express overwhelming loyalty to the president but also some disappointment, could sway the result. 
But like an actor originating a role on Broadway, Mr. Obama has been performing a part that no one else has ever played, and close observers say they can see him becoming as assured on race in public as he is in private conversation. In 2009, the new president's statement on the arrest of a black Harvard professor by a white police officer set off days of negative headlines; in 2012, he gave a commanding but tender lament over the killing of a black teenager, Trayvon Martin, by a white man. 
"As he's gotten more comfortable being president, he's gotten more comfortable being him," said Brian Mathis, an Obama fund-raiser. 
Asked when they could sense that shift, several advisers and friends mentioned the waning hours of Mr. Obama's birthday party in the summer of 2011. As the hour grew late, many of the white guests left, and the music grew "blacker and blacker," as the comedian Chris Rock later told an audience. Watching African-American entertainers and sports stars do the Dougie to celebrate a black president in a house built by slaves, Mr. Rock said, "I felt like I died and went to black heaven." 
The president, guests recalled, seemed free of calibration or inhibition. He danced with relative abandon, other guests ribbing him about his moves, everyone swaying to Stevie Wonder under a portrait of George Washington. 
Trying to Avoid a Wedge
In the White House, Mr. Obama has relied on a long-term strategy on race and politics that he has been refining throughout his career.As far back as 1995, former colleagues at the University of Chicago remember him talking about moving away from the old politics of grievance and using common economic interests to bind diverse coalitions. "He argued that if political action and political speeches are tailored solely to white audiences, minorities will withdraw, just as whites often recoil when political action and speeches are targeted to racial minority audiences," recalled William Julius Wilson, now a sociologist at Harvard. 
Mr. Wilson had turned the world of social policy on its head by arguing that class was becoming more determinative than race in America and pointing out that race-specific remedies were less politically feasible than economic policies that benefited a broad range of people. The young politician absorbed Mr. Wilson's ideas, which matched his own experience as a community organizer and a person whose own life did not fit neat racial categories. 
Mr. Obama now presides over a White House that constantly projects cross-racial unity. When discussing in interviews what image the Obamas want to project, aides use one word more than any other: "inclusive." Concerts of Motown and civil-rights-era songs have been stocked with musicians of many races, and in introducing them, the president emphasizes how the melodies brought disparate Americans together. Though the Memphis sanitation workers were involved in a shattering moment of the civil rights struggle — Dr. King was assassinated after going to support their strike — they were invited to the White House for a labor event, not a race-oriented one. 
Many of the president's most critical domestic policy decisions have disproportionately benefited African-Americans: stimulus money that kept public sector workers employed, education grants to help underperforming schools and a
health care overhaul
that will cover tens of millions of uninsured Americans. But he invariably frames those as policies intended to help Americans of all backgrounds. 
"If you really want to get something done, you can't put it in a way that will kill it before it gets going," Mr. Obama said in one meeting, according to the Rev. Al Sharpton. "We have to deal with the specific problems of different groups — blacks, women, gays and lesbians, immigrants — in a way that doesn't allow people to put these wedges in," Mr. Sharpton recalled the president saying in another. 
That approach, along with the memories of the toxic campaign battles over Mr. Obama's former pastor, the Rev. Jeremiah A. Wright Jr., has resulted in a White House that often appears to tiptoe around race. 
Debra Lee, the chairman and chief executive of Black Entertainment Television, requested interviews with the Obamas in 2009, but press aides told her that they did not want the first couple on BET in the first six months of the administration, she said in an interview. (They appeared later.) 
"There was all this caution and concern because we were in the midst of a great American experiment," one former aide said. Another aide remembered palpable nervousness about the artwork the Obamas chose for their private quarters in the White House, including some with race-specific messages. 
In private, White House aides frequently dissect the racial dynamics of the presidency, asking whether Representative Joe Wilson, Republican of South Carolina, would have yelled "You lie!" at a white president during an address to Congress or what
Tea Party
posters saying "Take Back Our Country" really mean. Michelle Obama, often called the glue in her husband's relationship with black voters, sometimes remarks publicly or privately about the pressures of being the first black first lady. 
Her husband is more circumspect, particularly on the question of whether some of his opposition is fueled by race. Aides say the president is well aware that some voters say they will never be comfortable with him, as well as the occasional flashes of racism on the campaign trail, such as the "Put the White Back in the White House" T-shirt spotted at a recent Mitt Romney rally. But they also say he is disciplined about not reacting because doing so could easily backfire. 
"The president knows that some people may choose to be divided by differences — race, gender, religion — but his focus is on bringing people together," Valerie Jarrett, a senior adviser, wrote in an e-mail. 
Even when Newt Gingrich called him a "food stamp president" during the Republican primaries, the most the president did was shoot confidants a meaningful look — "the way he will cock his head, an exaggerated smile, like 'I'm not saying but I'm saying,' " one campaign adviser said.
To blacks who accuse him of not being aggressive on race, Mr. Obama has a reply: "I'm not the president of black America," he has said. "I'm the president of the United States of America." 
That statement "makes me want to vomit," Cornel West, an activist and Union Theological Seminary professor, said in an interview. "Did you say that to the business round table?" he asked rhetorically. "Do you say that to Aipac?" he said, referring to a pro-Israel lobbying group.
Members of the Congressional Black Caucus, with whom the president has a contentious relationship, have echoed the charges that Mr. Obama is insufficiently attentive to African-Americans, even threatening at times to sandbag his agenda. 
Even some of Mr. Obama's black supporters privately express the same anxiety, in more muted form. At the first meeting of his top campaign donors last year, some black donors were dismayed when officials handed out cards with talking points on the administration's achievements for various groups — women, Jews, gays and lesbians — and there was no card for African-Americans. 
The accusation that Mr. Obama does not care about black suffering appears to carry little weight with the African-American public, and yet it tears at the president, say aides, friends and supporters. 
After a 2010 speech at the National Urban League, he approached Mr. West. "He just came at me tooth and nail," Mr. West said. "Are you saying I'm not a progressive?" Mr. West recalled the president asking. 
Mellody Hobson, an Obama fund-raiser, explained why the accusation was painful.
"You expect your family to give you the benefit of the doubt," she said. 
Out to Change Stereotypes
Shortly before his 2009 inauguration,
Barack Obama
took his family to see the Lincoln Memorial. "First African-American president, better be good," a 10-year-old Malia Obama told her father, who repeated the story later, a rare acknowledgment of the symbolic shadow he casts. 
For all of Mr. Obama's caution, he is on a mission: to change stereotypes of African-Americans, aides and friends say. Six years ago, he told his wife and a roomful of aides that he wanted to run for the White House to change children's perceptions of what was possible. He had other ambitions for the presidency, of course, but he was also embarking on an experiment in which the Obamas would put themselves and their children on the line to help erase centuries of negative views. 
While Mr. Obama resists being the president of black America, he does want to change black America, aides say — to break apart long-held beliefs about what African-Americans can and cannot do. The president, who appointed Lisa P. Jackson and Charles F. Bolden Jr. as the heads of the Environmental Protection Agency and NASA, wants to encourage black achievement in science and engineering, even urging black ministers to preach about the need to study those subjects. 
Mr. Obama knows that the next presidential candidate of color may be judged by his own performance, added Charles J. Ogletree, a Harvard law professor. And Mr. Obama's desire to win re-election in part because he is the first black president is "so implicit it's just like breathing," one White House adviser said. 
On rare occasions, Mr. Obama allows others a glimpse of the history, expectations and hope he carries with him. At the funeral of the civil rights leader Dorothy Height in 2010, he wept openly. Again and again, those close to him say, Mr. Obama is moved by the grace with which other blacks who broke the color barrier behaved under pressure. 
When Ruby Bridges Hall went to see the famous Norman Rockwell portrait of her marching into school, which Mr. Obama had hung just outside the Oval Office, the president opened up a bit. The painting shows a 6-year-old Ms. Hall in an immaculate white dress walking calmly into school, a hurled tomato and a racial slur on the wall behind her. 
The president asked Ms. Hall, now 58, how she summoned up such courage at that age and said he sometimes found his daughters staring at the portrait. "I really think they see themselves in this little girl," he said, according to an interview with Ms. Hall. 
"Doing the work we do, it gets really lonely," Ms. Hall said. "I felt like we understood each other because we belong to the same club."
Source: A version of this article appeared in print on October 21, 2012, on page
A

1

of the

New York edition

with the headline: For President, a Complex Calculus of Race and Politics.

Interesting side-note to this story, Project RACE was turned down for a grant from the W. K. Kellogg Foundation. Their spokesperson, quoted in this story

stated they want to educate people about unconscious bias

.  
Claims of Anti-Obama Racism Create Anger, Frustration
 By JESSE WASHINGTON
AP National Writer
Is it because he's black?

The question of whether race fuels opposition to President Barack Obama has become one of the most divisive topics of the election. It is sowing anger and frustration among conservatives who are labeled racist simply for opposing Obama's policies and liberals who see no other explanation for such deep dislike of the president.

It is an accusation almost impossible to prove, yet it remains inseparable from the African-American experience. The idea, which seemed to die in 2008 when Obama became the first black president, is now rearing its head from college campuses to cable TV as the Democratic incumbent faces Mitt Romney, the white Republican challenger.

Four years after an election that inspired hopes of a post-racial future, there are signs that political passions are dragging us backward.

"We're at a tipping point," said Susan Glisson, director of the Institute for Racial Reconciliation at the University of Mississippi. "But I don't know which way we're going to tip."

Glisson knows that many conservatives disagree with Obama solely because of his policies. "But I am also quite certain that there are others who object to the president because of his race, because they have a fear of blacks that is embedded in our culture," she said.

Her conclusion is based on something called "implicit bias"— prejudices that people don't realize they have.

Studies show that due to longstanding negative stereotypes about African-Americans — which give such false impressions as most black people are dangerous, unintelligent or prefer welfare to work — many people harbor anti-black biases yet don't even know it. Such unconscious biases, the studies show, are present in people of all backgrounds, not just whites.

"Our history has created this unconscious bias," said Gail Christopher, vice president of program strategy for the W.K. Kellogg Foundation, which has funded research on the subject. "Now we need to create safe places to discuss and educate people about unconscious bias, where we are not blaming and shaming them."

Those safe places generally do not include the political arena.

"Every time they say, 'We want our country back,' I know what that means," Susan Bankston, a white Democratic National Convention delegate from Richmond, Texas, said at the gathering last week.

"You recognize it when every time the Republicans with their own convention refer to him by his first name, Barack Obama. He's President Barack Obama," said Patt Sanders, a delegate from Englewood, Calif., who is black.

Such logic inspired James Taranto, a conservative Wall Street Journal columnist, to write: "Every comment from a Republican can be translated, through a process of free association, to: 'We don't like black people.'"

At their convention, Republicans made sure to show that the GOP does like black people, showcasing speeches by black and Latino conservatives. Two attendees who threw peanuts at a black camerawoman while commenting "this is what we feed animals" were swiftly ejected and denounced by GOP organizers.

On television, MSNBC host Chris Matthews unleashed an emotional rant at Republican National Committee Chairman Reince Priebus, accusing Romney of appealing to anti-black bias with welfare ads and a joke about claims that Obama is not an American citizen.

The actor Alec Baldwin simply tweeted: "If Obama was white, he'd be up by 17 points."

Said former President Bill Clinton in his speech to the Democratic convention: "Though I often disagree with Republicans, I actually never learned to hate them the way the far right that now controls their party seems to hate our president and a lot of other Democrats."

All of this is maddening to people like Dan Joseph, a 33-year-old white conservative from northern Virginia.

Joseph is too young to remember past GOP appeals to racial bias, such as Richard Nixon's "Southern strategy," Ronald Reagan's "welfare queens" rhetoric and George H.W. Bush's infamous Willie Horton ad. He believes Obama should have done more to promote economic growth.

Yet Joseph is often called a racist when he discusses politics. This inspired him to film a satirical video, "Bob is a Racist," which lays bare the frustration of many conservatives.

"Things have changed a lot since the 1980s," Joseph, a video journalist for a conservative media group, said in an interview. "I don't think food stamps equals blacks. We don't want people to be on food stamps, black or white."

So how many conservatives are truly biased against black people? "I don't know," Joseph said. "But it's hard to figure out when one side is assuming that it's everywhere."

It's not everywhere, acknowledges Courtland Milloy, a black columnist for The Washington Post. In a recent dispatch, Milloy described a widespread belief among some black Washingtonians that Republicans are using race against Obama.

"But there unquestionably is racism in some of the opposition," Milloy said in an interview. "And it should not just be up to black people to identify it and have to deal with it. This is an American problem. It's not just a black problem."

That can be difficult for folks who don't see a problem. Joseph, for one, doesn't buy the foundational idea of unconscious bias, that America remains afflicted by a racist past. "You get in the real world, and I just don't see it," he said.

For him, the bottom line is simple: "I know I'm not a racist, and the conservatives I know aren't racist."

The perils of potential offense can be everywhere. Glisson, director of the racial reconciliation institute, recalls a recent meeting with an unfamiliar group of people, including some African-Americans, and telling them about a good location for a professional retreat.

Then Glisson, who is white, mentioned that the location had excellent fried chicken.

She immediately sensed a change in the atmosphere: "They didn't know that I love fried chicken." It's a common occurrence: a statement that can be interpreted either way.

Evan Woodson, a black student at Oklahoma State University, often hears other black people call something racist that he sees as benign: "People seriously act as if whitey is still out to get them in 2012 in Stillwater, Okla. I don't think that's the case anymore."

Woodson does believe that the legacies of slavery and Jim Crow still create disadvantages for African-Americans. But when it comes to politics, he sees racial transgressions from both parties, such as Vice President Joe Biden telling black people that Republicans "want to put y'all back in chains."

"No matter how you cut it, politicians constantly seem to be accusing the other party of racism," Woodson said, and that prevents people from having honest conversations about actual racism. "People can't identify real racism anymore. They're lost in all the race-baiting."

Even when racism was a raw fact of American life, it wasn't always easy to identify. "Something is holding me back / I wonder, is it because I'm black?" Syl Johnson sang in the haunting 1970 soul classic, "Is It Because I'm Black?"

In an interview, Johnson, now 76, said his song was inspired by a twisted saga of land stolen from his family in 1930s Mississippi. He said the song remains relevant today because, he believes, Obama's blackness is indeed holding him back.

And yet: "Everyone that's white ain't no bigot," Johnson said. "Otherwise Obama never woulda become president
Source: AP
The Multiracial View from the White House
Multiracial President Obama recently announced a White House Initiative on Educational Excellence—for African American students. These efforts are nothing new; there are similar White House Education Initiatives for Hispanics, American Indian and Alaska natives, Asian Americans and Pacific Islanders. How great for those groups!
Who is missing? White students, but everyone thinks all white people are rich and getting wonderful educations at pricy private schools and …let's look again…oh yes….multiracial students, of course.
We still have overcrowded schools, not enough funding, the drop-out problem, less-than-great test scores, and on and on. The President said that the goal is to produce "a more effective continuum" of programs for African-American students. I'm not even sure what he means by that. I bet Ben Jealous, CEO of the NAACP does. He commented, "If fully implemented, we are convinced the White House Initiative on Educational Excellence for African Americans will make sure school discipline is fair, special education assignments are based on needs, not race, and all of our nation's most motivated students have fair access to advance placement classes."
Oh. This is about making sure, according to the NAACP that black students get treated fairly, but based on needs, not race. I'm not at all sure how that works for black students, if it's not based on race, unless this is just to throw money at a group problem. But just how does that work for a multiracial student?
Enter the US Department of Education, which says every school district in America has been told to allow students in K-12 to check two or more races. It claims to advise each school district to separately tabulate the numbers of multiracial (or check two or more in their language) students. It also looks to us at Project RACE that they are, indeed, reassigning those numbers back into a single minority category. By the way, the African American Initiative will be housed in the U.S. Department of Education.