Below is a guest column by Cherrye S. Vasquez, Ph.D. in response to my "A New Concern" blog entry and email. I think this response is particularly thoughtful and thorough. We had a great response to "A New Concern" with people stressing that yes, they do care about the bullet points regarding some of the recent concerns and they are very wary of the negative media portrayal that being multiracial is a hindrance. Project RACE continues to get out positive messages about the multiracial community. Thanks to all who participated. –Susan Graham
Guest Column – Cherrye S. Vasquez, Ph.D.
I watched the video and I'll share my thoughts:
It appears to me ideologies of biracial identity fluctuates depending on variables associated with an individual's: environmental experiences, background experiences, family life experiences, support systems or lack thereof.
For example, our former POTUS clearly identifies as AA. From the outside looking in he was more than likely told from his grandparents (who raised him) he was black because his skin tone is brown, his dad was African, and who knows what else. I remember hearing him tell a story once of observing his grandmother (years ago) clutching her purse when passing an AA man, and how that made him feel.
My daughter who is 1/2 Black and 1/2 Hispanic (living in this era) does not identify solely as either black or Hispanic. With lots of purposeful persuasion, I raised and supported her to feel good about not owning to one category over the other. I wanted her to reach the age of accountability deciding to identify as biracial (I hope she continues). If she chooses to identify as either one race over the other, it will be her choice, but I do not believe she will. She feels strongly about her identity.
I believe strongly (just like political choices) racial identity is highly influenced by parental input. I also listened and cautioned grandparents, teachers and anyone else labeling my daughter as one race. I do not believe in the 1% rule. That is most ridiculous to me. Some might go further claiming the child should identify with the race of their dad. Why should the child disclaim their other half?
Regardless how my daughter "looks" to anyone, and it does vary, she is a combination thus – biracial, and she announces it with such pride, if asked, and many people ask often.
What I've noticed about my daughter is this: She has friends from all races – not only black and Hispanic – because she loves people. Due to the racial make-up at the school my daughter attends she does have a healthy balance of both black and Hispanic friends.
Now, I realize as well my daughter (being black and Hispanic) may not be termed the classic (black/white) biracial child being that she is a double minority, but believe me "bi" is "bi" so she faces the same experiences as all biracial individuals only her outlook and reactions makes the positive difference in her life. She isn't bogged down with hectic decisions of choosing who to hang out with. She just has friends.
One other comment I want to make: Regardless of racial identity children should absolutely LOVE who they are and believe they can "set the world on fire" with their beauty, talents/skills. When we instill this sort of empowerment children possess such esteem and affirmation nothing topples their spirits.
As a parent, I want to continue fighting for my child's identity rights and the rights of all children to identify as biracial! It's their right!
About the Author, Cherrye S. Vasquez, Ph.D.
Cherrye is a retired public school administrator and an adjunct professor who has earned a Doctor of Philosophy in Curriculum & Instruction; a Master of Education in Special Education; and a Bachelor of Arts in Speech Pathology/Audiology.
Cherrye's areas specializations are in Multi-cultural education, Early Childhood Handicapped, Mid-Management and Educational Diagnostician.
Cherrye lives in Houston, Texas with her husband, Roy and daughter, Kelly.
As an educator, mother, and author Cherrye believes that adults and educators must, as role models, develop an atmosphere of respect for children to thrive in. Her books provide examples of how to reduce bullying by encouraging diversity.
http://cherryesbooksthatsow.com
A New Concern
I would like to sincerely thank all of the people who took the time to contact me after this week's email update on Project RACE. I am personally responding to each one. It may take a while! Here is a recap of some of the current concerns:
Does the multiracial community even care if our numbers are skewed? This is all a numbers game—it always has been—and we should care a lot. The lower our population numbers, the less we matter to the government, businesses, advertising agencies, retailers, the medical system, and on and on.
Do we only exist for the annual party, movie, or book signing?
Do we really want to go back to the days when the one-drop rule was the law?
Do number tabulation and voting redistricting mean anything to us?
Should you even have to think about whether interracial marriages are allowed?
Will we be deported because we're not 100% white?
Do we want respect for our identity choices, political clout, appreciation for the diversity our children bring to their schools, and the end of the tragic mulatto stories once and for all?
Does it really matter if our history is accurate?
Perhaps I did not successfully illustrate what is at stake if people still don't care. Take a look for yourselves at an article and video that came out today from Breitbart and Buzzfeed about how being mixed-race is a hindrance. It's at http://www.breitbart.com/london/2016/01/14/buzzfeed-being-mixed-race-bad/  Is this really what you want our children to read and see?
Again, let me know what you think. My email is susangraham@projectrace.com
Susan Graham for Project RACE
What will President-Elect Trump do for or against the Multiracial Community?
by Susan Graham
Since November 8th I've seen the so called "leaders" in the so called "multiracial community" avoid this question. The majority of them are Democrats, Libertarians, Independents, or something other than Republicans. They are all over the map geographically. They like to call themselves "academics" and give that as a reason to avoid writing real political papers. Now that they have confused what the academics think, they slink back into their tiny university closets and lock the doors.
If you read any of the online community sources like Facebook, Mixed Studies, Swirl. MASC and more, you have a hard time finding anything other than pleas for money, reviews about the "Loving" movie, or pros and cons about President Obama's personal racial identification. Let me digress for a moments and add my own feelings on this. I would have loved nothing more than for Barack Obama to embrace a multiracial identity, but he just wasn't feeling it, his reason being what his white mother and black father advised him, how his white grandparents raised him, how politics work best, or any other number of things. Our loss.
We can't talk about the election without bringing in Hillary Clinton. She never did anything for the multiracial population and trust me, she was asked several times, as was her husband when he was President. So, she didn't actually cancel out our community, she ignored us, which was worse. The Clintons were so pro-minority that they were clearly in favor of the one-drop rule by default. An office in Harlem and a residential compound in the white area of town. Maybe that makes them think they are some kind of multiracial citizens. And I really do like them!
Speaking of liking people, I believe you can like someone and not have the same political views that they do. Honest. I like a few Republicans because I can pick and choose individuals who I like from groups of people without selecting an entire group.
Let's look at where things stand for the multiracial community now. Yeah, I'm sharing with the people in the movement who are clueless—you know who you are and so do we. I don't "report" on what multiracial star is mad at who, stories about families in Zimbabwe, or the history of Thomas Jefferson, so I'll keep it to policy issues if you know what those are.
OMB, which stands for Office of Management and Budget has a director. His name is Shaun Donovan. He's never returned our calls, letters, or emails. He would much rather we just didn't exist. Oh, wait a minute! President Elect Trump has nominated a new OMB Director, along with the new regime. His name isRep. Mick Mulvaney (R.-S.C.). Max Stier wrote in The Hill,
 

 

"While OMB has a reputation for being "the agency of no" because of its role protecting the president and the administration's budget and policy priorities, it can do more to clarify where agency leaders have flexibility to test new approaches, identify areas that are off-limits, provide air cover to test new ideas without fear of reprisals and serve as an incubator for change."
What might this mean? Actually, your guess is as good as mine with this new president. But wouldn't it be nice if they did some real housecleaning at the OMB and The Census Bureau?! Can you imagine what life would be like without Nicholas Jones in it? Now that would be a nice indication of smaller government.
By the way, Katherine Wallman at OMB retired January 1st, just in time to make decisions on race and ethnicity issues. She's the same Wallman who pretty much screwed us over when it came to nomenclature and tabulation of "two or more races" in the 1990s. Could things get better? Nah.
They could actually do away with the Census Bureau if it wouldn't mean all those lost jobs for Washington demographers and statisticians. But on the other hand, does this government have a real need to know where all the Muslims and Jewish citizens and immigrants live? Maybe, just maybe there will still be a working Congress with some possible roadblocks. Perhaps some checks and balances will work just a bit.
Oh, and one more thing. There is a public hearing this week in Chicago hosted by the Commission on Evidence-Based Policymaking, which is involved in decision making for the multiracial population. Good luck trying to get information on it. If you do, please let us know. After all, we can't know everything.
Meghan Markle is a beautiful and talented multiracial actress. She has recently been in the headlines due to her rumoured romance with Prince Harry. While I understand that is what most major news outlets are talking about, it isn't what I want to talk about.
I recently came across one of the best articles I have ever read when it comes to being Multiracial. The star of the article was none other than, Meghan Markle. My heart was stolen from the first paragraph where she said, "'What are you?' A question I get asked every week of my life, often every day. 'Well,' I say, as I begin the verbal dance I know all too well. 'I'm an actress, a writer, the Editor-in-Chief of my lifestyle brand The Tig, a pretty good cook and a firm believer in handwritten notes.' A mouthful, yes, but one that I feel paints a pretty solid picture of who I am. But here's what happens: they smile and nod politely, maybe even chuckle, before getting to their point, 'Right, but what are you? Where are your parents from?' I knew it was coming, I always do. While I could say Pennsylvania and Ohio, and continue this proverbial two-step, I instead give them what they're after: 'My dad is Caucasian and my mom is African American. I'm half black and half white.'" The whole article is pure gold, and I will leave the link so that you all can read it in its entirety.
http://www.elleuk.com/life-and-culture/news/a26855/more-than-an-other/
I STRONGLY recommend that you take the few minutes to read this. To me, it is beautiful to know that so many multiracial people share similar experiences. I think that it makes our community that much more awesome!
— Lexi Brock, Project RACE Teens President
Photo courtesy of ELLE.
Vancouversun.com
VIFF premieres documentary Mixed Match
A rare disease diagnosis requiring a suitable bone marrow match to keep a child alive is something no parent ever wants to deal with. Yet many do.
In director Jeff Chiba Stearns' documentary Mixed Match, the challenges that children of multiracial unions sometimes face finding compatible donors to fit their genetic markers and the issue of race in medicine is well explored. The Emmy-nominated and Webby Award-winning Vancouver director (One Big Hapa Family, 2010) is the co-founder of Vancouver's annual Hapa-palooza Festival, Canada's first and largest celebration of people with mixed ancestry that keeps growing.
A news report about the passing of a 23-year-old of Eurasian descent who was searching the global donor bank but unable to find a match in time sparked his interest in the Mixed Match subject matter. His film featuring live action and inventive animation took six years to complete.
"When you walk down the street in Vancouver, you see so many mixed-race families and children and the prediction is that will be the majority fairly soon," said Stearns. "Tons of babies being born right now are born to mixed (parents) and, while rare blood diseases are thankfully rare, I thought we should do something to focus on the people stories. There are people searching now and desperate now."
In searching out the unique stories, the director came into contact with the American-based Mixed Marrow organization which is trying to build mixed-race donor banks. He also profiles scientists working on the cutting edge of genetic science, aw well as racist trolls and some truly inspirational subjects such as Imani Cornelius. This spectacularly well-spoken, lively young woman in Wisconsin is as good a spokesperson as anyone could hope for to get more people onto a donor registry.
"We wanted a call to action. We wanted to cover all the angles. It's controversial in so many ways how we talk about the racial language in medicine and beyond," said Stearns. "But what we didn't want was a two-hour PSA. We wanted the people like Imani to make the point."
Mixed Match is more than a movie for Stearns. His own child's birth becomes part of the awareness-raising in the film. The tagline for the film says it all: "When being mixed race is more than just an identity, it's a matter of life and death."
Who Gets To Be 'Hapa'?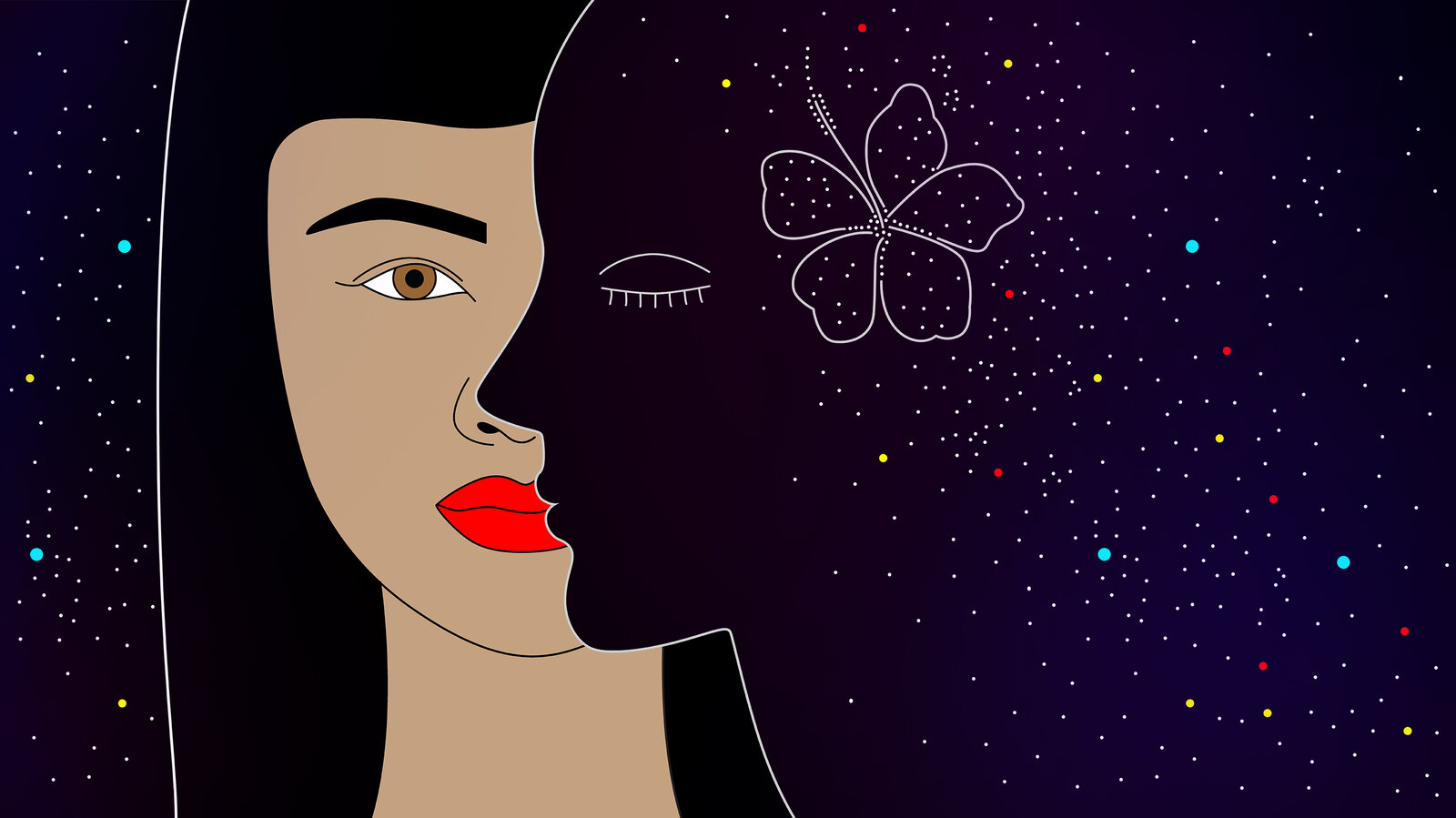 Sunset in Waikiki: Tourists sipping mai tais crowded the beachside hotel bar. When the server spotted my friend and me, he seemed to relax. "Ah," he said, smiling. "Two hapa girls."
He asked if we were from Hawaii. We weren't. We both have lived in Honolulu — my friend lives there now — but hail from California. It didn't matter. In that moment, he recognized our mixed racial backgrounds and used "hapa" like a secret handshake, suggesting we were aligned with him: insiders and not tourists.
Like many multiracial Asian-Americans, I identify as hapa, a Hawaiian word for "part" that has spread beyond the islands to describe anyone who's part Asian or Pacific Islander. When I first learned the term in college, wearing it felt thrilling in a tempered way, like trying on a beautiful gown I couldn't afford. Hapa seemed like the identity of lucky mixed-race people far away, people who'd grown up in Hawaii as the norm, without "Chink" taunts, mangled name pronunciations, or questions about what they were.
Over time, as more and more people called me hapa, I let myself embrace the word. It's a term that explains who I am and connects me to others in an instant. It's a term that creates a sense of community around similar life experiences and questions of identity. It's what my fiancé and I call ourselves, and how we think of the children we might have: second-generation hapas.
But as the term grows in popularity, so does debate over how it should be used. Some people argue that hapa is a slur and should be retired. "[It] is an ugly term born of racist closed-mindedness much like 'half-breed' or 'mulatto,'" design consultant Warren Wake wrote to Code Switch after reading my piece on a "hapa Bachelorette."
Several scholars told me it's a misconception that hapa has derogatory roots. The word entered the Hawaiian language in the early 1800s, with the arrival of Christian missionaries who instituted a Hawaiian alphabet and developed curriculum for schools. Hapa is a transliteration of the English word "half," but quickly came to mean "part," combining with numbers to make fractions. (For example, hapalua is half. Hapaha is one-fourth.) Hapa haole — part foreigner — came to mean a mix of Hawaiian and other, whether describing a mixed-race person, a fusion song, a bilingual Bible, or pidgin language itself.
This original use was not negative, said Kealalokahi Losch, a professor of Hawaiian studies and Pacific Island studies at Kapi'olani Community College. "The reason [hapa] feels good is because it's always felt good," he told me. Losch has been one of the few to study the earliest recorded uses of the term, buried in Hawaiian-language newspapers, and found no evidence that it began as derogatory. Because the Hawaiian kingdom was more concerned with genealogy than race, he explained, if you could trace your lineage to a Hawaiian ancestor, you were Hawaiian. Mixed Hawaiian did not mean less Hawaiian.
Any use of hapa as a slur originated with outsiders, Losch said. That includes New England missionaries, Asian plantation workers and the U.S. government, which instituted blood quantum laws to limit eligibility for Hawaiian homestead lands. On the continental U.S., some members of Japanese-American communities employed hapa to make those who were mixed "feel like they were not really, truly Japanese or Japanese-American," said Duncan Williams, a professor of religion and East Asian languages and cultures at the University of Southern California. He said this history may have led some to believe the word is offensive.
For Losch, "hapa haole" — meaning part Hawaiian, part other — always has been positive. "This is absolutely who I am," he said. The license plate on his car reads, "HAPA H." His family members have been proud hapa haole for generations. An issue for him is when non-Hawaiians call themselves hapa. "There are times when it feels like identity theft," he said.
This is arguably the trickier and more significant conflict around the term. Hapa, middle school teacher Piikea Kalakau told me, means part Native Hawaiian — not part Asian. "I … am personally frustrated with the world misusing this word …," she wrote in an email.
I followed up with Kalakau by phone. The widespread use of hapa, she said, is a form of cultural appropriation, just as offensive as hula dancer dolls shaking their hips on car dashboards. She said correcting the definition of hapa is part of a larger Native Hawaiian "movement to take back our culture." She said her people were fighting to thrive again after surviving colonization and its damage to their language, culture and population. Kalakau encouraged me and other mixed Asian-Americans to find labels from our own heritages. "I wouldn't use a Japanese word or a Filipino word to describe myself because it doesn't fit," she said.
Mixed-race Chinese-American scholar Wei Ming Dariotis works through this dilemma in her 2007 essay, "Hapa: The Word of Power." In it, she details her difficult decision to stop using hapa, though the term had formed the foundation of her identity and community. "To have this symbolic word used by Asians, particularly by Japanese Americans, as though it is their own," she writes, "seems to symbolically mirror the way Native Hawaiian land was first taken by European Americans, and is now owned by European Americans, Japanese and Japanese Americans and other Asian American ethnic groups that numerically and economically dominate Native Hawaiians in their own land."
The desire of many Native Hawaiians to reclaim this word is often linked to a larger call for change. In Hawaii, a growing sovereignty movement maintains that the late 19th-century overthrow and annexation of the kingdom were illegal and the islands should again exercise some form of self-governance. But even within that movement opinions on hapa vary. I spoke with attorney Poka Laenui, who said he has been involved in the Hawaiian sovereignty movement for more than 40 years. He told me, in the "idea of aloha" — the complex blend that includes love, compassion and generosity — he doesn't mind if the term is shared. "If our word can be used to assist people in identifying and understanding one another, who am I to object?" he said.
Linguist and consultant Keao NeSmith told me he was shocked the first time he heard hapa outside of a Native Hawaiian context. NeSmith, who grew up on Kauai, learned more about the wider use of hapa when interviewed for a PRI podcast last year. Hearing the episode, his family and friends were shocked, too. "It's a new concept to many of us locals here in Hawaii to call Asian-Caucasian mixes 'hapa' like that," NeSmith said. "Not that it's a bad thing."
NeSmith cited the mixed nature of language and culture in Hawaii as one reason the use doesn't bother him. "We borrow Portuguese terms all the time, Japanese terms all the time, English terms all the time," he said. He called it hypocritical for a local person to protest someone using a Hawaiian word when "it's perfectly fine for us to do that and steal from other cultures and ethnicities."
I asked Williams, editor of the forthcoming essay collection Hapa Japan (to which I contributed a chapter), about his decision to use the word in his work. Why not the Japanese term "haafu"? "Haafu" seemed too narrow, he said; it implies a person has one parent who's a Japanese national. "It seemed like at least in the U.S., the term 'hapa' had a big umbrella feel to it," Williams said.
That broad interpretation of the word may have its roots in Hawaii, where I have friends descended from Japanese and Chinese immigrants who grew up thinking hapa meant part Asian. Elsewhere in the islands, "hapa haole" continued to mean part Hawaiian. This makes literal sense in that "part foreigner" describes only what is different, with the dominant race or culture assumed. It's like how I might answer, "half Japanese" to "What are you?"-type questions; where whiteness is normalized, it doesn't have to be named.
The idea that hapa means multiracial people of Asian and/or Pacific Islander descent spread to the U.S. mainland with the help of academic and artistic work like Kip Fulbeck's The Hapa Project. College hapa clubs also introduced the term to many mixed-race Asian-Americans at a formative stage in their lives. One of the first student groups was the Hapa Issues Forum, founded in 1992 at the University of California at Berkeley. My friend, the mixed-race Taiwanese-American novelist Shawna Yang Ryan, told me she first heard of hapa as a student at Berkeley via the Hapa Issues Forum. "They had shirts that read '100% Hapa,' and I wore mine all the time and spread the word (literally)," she wrote in an email. I had a similar experience at Brown University, when, in 2004, I joined the newly formed Hapa Club.
Since then, hapa has become a meaningful part of who I am. But now I understand this frustrates and offends others. Now, when I think of hapa, I think about the history of Hawaii and identity theft. I think about helping obscure a group of people by swapping my story for theirs.
Hapa is a word I don't think I should use anymore. But I also don't know how I will let it go.
Akemi Johnson is a writer and contributor to Hapa Japan, forthcoming from USC Ito Center/Kaya Press in January 2017.
Source: Code Switch, NPR
Editor's Note: If you read this article, you will see that the article does not profess that multiracial or fairer skinned black women are or should be a true standard of beauty. The premise is quite contrary. It focuses on the serious error of societal colourism and the damage such erred thinking has on beautiful men, women and children of all shades, hues, ethnicities and races. Project RACE fully believes in and celebrates the beauty and value of all people.

The choice to have European-looking Zoe Saldana play Nina Simone in place of a broader-nosed, darker-skinned actress was seen as the most recent attempt to erase blackness in the media.  Despite the fact that Simone was a darker-skinned woman, Saldana, with her olive-hued skin and pointier nose was chosen, which lead to detractors arguing that Simone was being used as the standard for "acceptable blackness".
Colourism is not only limited to media representation. The natural hair movement has also been called out for it's lack of representation of black hair. The movement that's supposed to support and uplift black women owning their blackness by wearing their natural hair has been accused of deifying hair with a looser curl texture over denser, more "kinky" hair types. 
Earlier this month Pax Jones, the woman who launched the Unfair and Lovely campaign – a photo series aimed at combating the media underrepresentation, violence and dehuminisation of dark-skinned people – spoke out about the face of the black feminism being biracial and light skinned.
She cited light-skinned and biracial women like Zendaya Coleman and Amandla Stenberg being used as the champions of black feminism at the cost of darker-skinned black women.
Hall argues that the repackaging of black beauty causes women to desire whiteness or have a connection to it and causes damage to the how young people see themselves.
Additional reporting:  National Geographic
photo: nomorerace.wordpress.com
Announced by the Census Bureau 6/23/2016:

The second fastest-growing racial group was those who claim two or more races, government officials said.
The number of people who claimed two or more races grew 3.1% to 6.6 million.
This group was also the youngest group of all racial or ethnic groups with a median age of 20 years old.
via Huffington Post
By Alexander Jasienowski
As a young girl, I remember my grandfather saying to me, "You're black, you're black, you're black. It doesn't matter how much white blood you have, you'll always be, and always be seen as black." My black grandfather said the words but my white relatives reinforced the message with their actions.
Growing up with a black mom and a white dad has been central to my life experience. I struggled to fully fit into one identity as each side of my family imposed its views on my identity. The black side of my family said it directly: I could never completely fit into the white community. My white grandfather, aunts and cousins were never comfortable enough to directly confront the strain that race placed on our relationships. Yet the tension of race always slipped into our encounters.
When we were young, my father would regularly take my sister and me to visit his family in upstate New York. Looking back, these memories are tinged by recollections of strange behaviors. One day, after my sister and I took one of our many swims down to the lighthouse, my aunt looked at our hair and said, "your hair is too wild, it's so difficult!" I cringed — her words filled me with disgust and frustration. The behaviors of my father's family continually pointed to this singular difference of race — when they gave us skin colored band-aids (which were actually too dark for our skin tone), volumes and volumes of Temptations CDs, and the strangest gift of all, eleven black dolls dressed in different animal costumes. With each visit upstate, my feelings of discomfort became stronger. My sister and I were always included in the family, but there was a growing sense of awkwardness that seemed to justify the words of my black grandfather. No matter how hard my white relatives tried to make it appear that they were comfortable with our racial differences, their behavior ultimately helped push me to choose an identity, black.
The choice proved to be complicated. I began to identify as black internally, and at the same time, externally, I was still seeking acceptance from the white community. Early on, I used my hair as a way to conform to white expectations. I tamed my wild curly locks by straightening them, changing an aspect of myself so that I would blend in with my friends at school. Gradually, I realized that more of my friends were people of color, and I experienced a level of comfort I had never felt before. By the end of 9th grade, after years of conforming to the expectations of others, I let my hair go natural, freeing both my hair and myself. Feeling liberated, I felt a new sense of confidence and pride in my multiracial identity as I embraced my black heritage more than my white roots. I made this choice under pressure from both my black and white sides. They made it seem that one culture had to dominate.
Looking back, having to make a choice at all is unsettling. In making one side dominant, I abandoned a piece of myself. People shouldn't feel that it is necessary to abandon a part of their identity in order to be accepted.
Now, identifying as multiracial, I am learning to get beyond the pressures that were placed upon me as a young girl. While my connection and sense of affinity with the African-American community grows increasingly stronger, I continue to lean into my multiracial identity, although I sometimes feel a lingering sense of unease. I work through these vulnerabilities by reaching out and supporting others who seem to be experiencing similar struggles. Every now and then, I feel the urge to safely lock away my curls, but I do not give in to this temptation.
Alexander Jasinowski, a graduate from The Spence School, graduated from Pitzer College last Saturday
Special thanks to up and coming filmmaker and friend of Project RACE, Tay Erickson of Cleveland, Ohio for sharing this video celebration of Multiracial Heritage Week.
Please spread it 'round y'all!
To see more of Tay's work see: https://vimeo.com/caramelthunder and https://www.youtube.com/channel/UCMnctno_mj27Q-qWfQw_oyw