Serena Williams and Alexis Ohanian
Serena is thirty seven years old. She is one of the greatest women's tennis players. She has won a record 23 Grand Slam tennis titles. She met thirty six year old Alexis Ohanian in May of 2015 at the Rome Cavalieri Hotel in Italy. He had never watched her play. Alexis is co founder of the social new website Reddit. His father is Armenian and his mother is from West Germany. Serena had never heard of Ohanian. She invited him to Paris to watch her play in the French Open and they walked around for hours before the tournament began. He soon began showing up at all of her matches to watch her play. Ohanian proposed to Williams in December of 2016 at the same place they met. Williams announced their engagement on Reddit. Serena found out that she was pregnant in January 2017 while she was playing in the Australian Open. She ended up winning the Australian Open while she was eight weeks pregnant. Alexia Olympia Ohanian Jr. was born on September 1, 2017. Serena opened up about their interracial marriage in an interview with the New York Times. She stated "Literally all I tell Alexis is, 'well, you know, there's such a difference between white people and black people.' He always gets to hear about the injustices that happen; that wouldn't happen if I were white. It's interesting. I never thought I would have married a white guy, either, so it just goes to show you that love truly has no color, and it just really goes to show me the importance of what love is. And my dad absolutely loves Alexis."  The birth of Alexis made her father even more aware of the need for paternity lead. Mr. Ohanian is currently in the spot light for fighting for paid paternity leave. He has met with others who have fought for federal policy. One out of four dads has access to paid leave and even fewer have leave available to them through their employers. The US is the last country in the developed world without a policy for family leave.
Makensie Shay McDaniel
Project RACE Teens President Emeritus
Photo Credit: instyle.com
The Annie E. Casey Foundation's 2019 KIDS COUNT DATA BOOK just came out. We went through the full report and picked out what is most important to the multiracial community.
The Annie E. Casey Foundation's KIDS COUNT® is a national and state effort to track the status of children in the United States. Since 1990, the Casey Foundation has ranked states annually on overall child well-being using an index of key indicators. The KIDS COUNT index captures what children need most to thrive, using four domains: (1) Economic Well-Being, (2) Education, (3) Health and (4) Family and Community.
Let's look at the most relevant information about multiracial kids. Most of the time periods covered were from 2017.
ECONOMIC WELL BEING
                                                            National Average                  Multiracial
Children in Poverty                                 18%                               19%
Children whose parents lack
secure employment                                 27%                               31%
Teens not in school and not
working                                                     7%                                 7%
EDUCATION
Young children ages 3 and 4
not in school                                            52%                                 51%
Fourth-graders not proficient
in reading                                                  65%                                60%
Eight-graders not proficient
in math                                                     67%                                64%
HEALTH
Low birth-weight babies                             8.3%                                8.9%
Children without health insurance          5.0%                                 4.0%
Teens who abuse alcohol or drugs            4.0%                                  5.0%
FAMILY AND COMMUNITY
Children in single-parent families                34%                                 41%
Children in families where the household
head lacks a high school diploma                 13%                                    8%
Children living in high-poverty areas           12%                                   10%
Teen births per 1.000                                       19%                                    29%
We strongly encourage you to look at the KIDS COUNT DATA BOOK yourselves at:
https://www.aecf.org/m/resourcedoc/aecf-2019kidscountdatabook-2019.pdf
This photo is of one of our Multiracial Heritage Week picnics in New York!
We just want to thank everyone who made national Multiracial Heritage Week such a great success this year. We received written acknowledgment from 17 states and 4 mayors of large cities. Yes! We also had numerous new members sign up for membership and asking to be placed on our mailing list.
The media attention has been great, with television, radio, and podcasts. If you missed Karson Baldwin, Project RACE Teen President on WKYC, you can catch it here: https://www.wkyc.com/amp/article/entertainment/television/liveonlakeside/karson-baldwin-project-race-teens-gears-up-for-multiracial-heritage-week/95-c9a9fef6-6506-4589-920c-475f8beb719a
Project RACE celebrates being multiracial throughout the year, but our week is very special to us. Please consider being a part of it next year by going to our website and filling out a form here: http://www.projectrace.com/mhw/
Also, please let us know throughout the year what companies, hospitals, media outlets, etc. include "multiracial" on their forms and surveys. We encourage you to frequent those that include us like Aveda and Walgreen's, and make your preferences known to those that don't, like TheSkimm. Thank you.
Project RACE
Project RACE Teens
Project RACE Kids
Project RACE Grandparents
We interrupt our celebrations…
What do a seven-year-old boy in New York, a three-year-old girl in Baltimore, and an eight-year-old boy in Los Angeles have in common? Other than playing games and being with their pets, they are all living on borrowed time. And you may be able to save them.
During Multiracial Heritage Week, we do a lot of celebrating and talk about being multiracial, but we also remind people about becoming bone marrow donors for sick children and adults with blood diseases.
There is a blood cancer diagnosis every four minutes in the United States and every one of us could be the key to saving a life. Anyone between the ages of 18 and 44 can register with Be the Match, to potentially become a donor. Multiracial adults are in high demand.
Approximately 70 percent of patients do not have a fully matched donor in their own family, which leaves them to search the registry. And depending on a patient's ethnic background, the likelihood varies for finding the perfect match. Most prospective donors are white.
"Caucasians are likely to match 77 percent of the time, African Americans are likely to match 23 percent of the time," said Amy with Be the Match, operated by the National Marrow Donor Program. "There is no medical reason for that likelihood, it's just the number of committed donors we have on the registry." There are no statistics on multiracial patients.
So we interrupt our celebrations to ask you to register with Be the Match and help save lives. Thank you.
You can watch our video "Invisible in Healthcare" here: http://www.projectrace.com/teen-project-race/video/
Project RACE
Project RACE Teens
Project RACE Kids
Project RACE Grandparents
Photo Credit: ABC News Go.com
We've been talkin' about Multiracial Heritage Week! Listen to Karson Baldwin, Co-President of Project RACE Teens and Susan Graham, president of Project RACE on two NPR shows this week.
Join Project RACE as we kick off Multiracial Heritage Week. It is a week when we don't ask, "What are you?" but celebrate who you are. We rejoice in in our varied heritage and embrace all of our backgrounds.
This is our sixth year of celebration, of recognition for the biracial and multiracial community. We have proclamations signed by the governors of big states like California, Texas, Hawaii and mayors of large cities who believe that diversity that includes the multiracial population is how they want to be represented.
Whether you take a moment to reflect on what wonderful things it means to be multiracial or attend one of our parties across the country, take pride in your racial identification with us. Project RACE is here to help.
Susan Graham, founder and president of Project RACE will be speaking at Barnes and Noble's Fresno, California store on June 8 and signing her books Born Biracial: How One Mother Took on Race in America to kick off Multiracial Heritage Week.
The U. S. Census Bureau publishes a feature called Stats for Stories that goes to journalists around the county. It gives them an idea of what important celebrations are taking place around America. This year the bureau is including Project RACE in the important list for June in recognition of Multiracial Heritage Week (MHW), which is June 7 to June 14, 2019. We celebrate with proclamations from state governors and large city mayors. We also have fun with it! We hold parties across the county and encourage you to have your own celebration with your family and friends.
See our video at: https://www.youtube.com/watch?v=dk-98_92EUg
Our sincere thanks to the United States Census Bureau!
Angelina Jolie
Angelina Jolie, an actor, filmmaker and a humanitarian, was born June 4 1975.  Angelina Jolie has been cited as one of the most powerful and influential people in the entertainment industry of America.  Jolie is also a mother of an interracial family!  She has three adopted children from all over the world along with three other biological children.
While filming in Cambodia, Jolie was exposed to the effects a war could have on a country, and wanted to do something about it.  While filming "Lara Croft: Tomb Raider" in Cambodia, Jolie witnessed first hand, the effects a war had on Cambodia.  Returning home with that greater understanding, Jolie couldn't just sit around.  She contacted United Nations High Commissioner for Refugees (UNHCR).  This is where her humanitarian journey began.  Since 2001, she has visited over 20 countries to advocate for those who are suffering.  She regularly goes to Washington DC, to raise awareness for humanitarian issues and to bring attention to the displaced and needy. In 2006 Jolie announced the founding of the Jolie-Pitt Foundation, through this foundation donations came in from all over the world to help those in need.  Angelina Jolie states, "We cannot close ourselves off to information and ignore the fact that millions of people are out there suffering. I honestly want to help…"
Jolie has not only had three biological children, but has also adopted three children. Maddox Chivan was the first child she adopted in 2001 from Cambodia, followed by Zahara Marely from Ethiopia.  She then bore her first biological child, Shiloh Nouve.  She then adopted Pax Thien from Vietnam, and then gave birth to the twins, Knox Leon and Vivienne Marcheline.  Angelina makes sure she celebrates the different cultures of her adopted children. She believes that educating her children about their roots is incredibly important.  Jolie makes the point that her children should embrace the whole family's different backgrounds. She says, "They are all learning about each other's cultures as well as being proud of their own." Her son Maddox has joined her on set in Cambodia before, learning first hand about his heritage and native country.
Angelina has used her work as an actress in several ways to educate others too!  This includes when she acted in the movie First They Killed My Father. This movie is based on a Cambodia human rights activist Luong Ung's memoir also called First They Killed My Father.  It documents a young girl's experience in Cambodia when it was under the horrible rule of Khmer Rouge.
Jolie has used her talents to help others and that is very admirable.  Angelina Jolie could have focused on just her prosperity in the United States, but she instead saw the need and has made an impact worldwide.  Her family dynamic is a beautiful microcosm of what we desire for our world to look like; embracing different cultures and celebrating them with love and kindness!
Madelyn Rempel Project RACE Kids President
Picture Source: https://www.harpersbazaar.com/celebrity/latest/a26532018/angelina-jolie-brings-kids-nyc-premiere/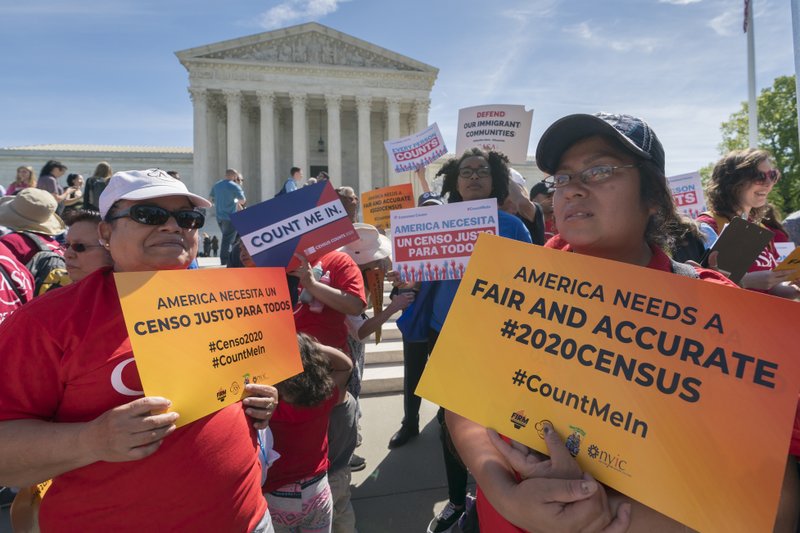 NEW YORK (AP) — A Republican redistricting expert advocated for adding a citizenship question to the 2020 census to give an electoral edge to white people and Republicans, opponents of the move alleged in a court filing Thursday.
The filing in Manhattan federal court said a trove of newly discovered documents revealed that Thomas Hofeller, a longtime Republican gerrymandering guru, played a key role in pushing the Trump administration to include a citizenship question on the census for the first time since 1950.
Lawyers for opponents of adding the question said the files, found on Hofeller's computer drives after he died last year, also showed that he contributed vital language to a Justice Department letter used to justify the question on the grounds that it was needed to protect minority voting rights.